Join Thousands of Successful NORA Certified Oilheat Technicians Today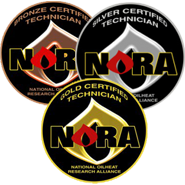 NORA provides training and technical education programs in order to maintain a high level of professionalism and knowledge among Oilheat technicians. These programs can help technicians in their efforts with job placement, security and advancement.
NORA also offers online video courses in order to supplement your CEUs. The courses, covering a wide array of topics, require watching a video and passing a test. The tests can be retaken as often as needed. Passing each test will credit your account two CEUs that can go toward the advancement from Bronze to Silver (20 CEUs) and maintaining a Silver or Gold accreditation (24 CEUs every five years).
Take the first step toward a new, reliable career or push your career further with NORA's certification program! Get started today by following these steps:
Click one of the links below to access video training.
If you are a new user, you will need to create a user account using the links on the left of the web page.
You will need to enter a valid email address to store and access your records.